Wild Card Team #1
Additional seat for EU #5
Team Leader:

Vedran Carapovic, 9A7DX

Other callsigns:
9A5AGL
Country:
Croatia
Age (WRTC 2018):
33
Previous WRTC experience:
n/a
Occupation:
Master of Traffic Engineering
My name is Vedran Carapovic and I would be grateful if you could consider allowing me to be a part of your contest. I was born and raised in a small provincial town in northeast part of Croatia. I become interested in HAM RADIO in 7th grade when I was 12 years old. My Physics professor gave me a choice to either go to HAM radio classes or do some physics stuff in order to get a better grade. I chose Ham Radio class over school that time and that was it. I got stuck in a weird world of ham radio. I got the first license when I was 13 & call 9A5AGL. From that point I started to work on BANDs and maybe a year later I went to contests on HF & VHF. Before going to college I did a Medium advanced contesting from 9A5Y & 9A4D station. Then during college I saw some modern stuff @ 9A1P stn. and then I improved my skills during 5 years of University. After I got my masters degree I came back to my hometown and together with my old friends tried to improve our 9A5Y site. I'm positive, optimistic and people loving person who loves contesting above all. I would really like to get a chance to compare my skills with the top operators of our planet :)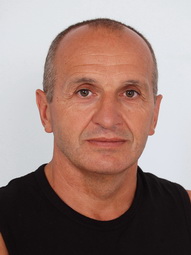 Team Mate:

Zvonimir Karnik, 9A3LG

Other callsigns:
n/a
Country:
Croatia
Age (WRTC 2018):
54
Previous WRTC experience:
n/a
Occupation:
Electrician
I was born in 1963. I fell in love with HAMRADIO in elementary school, in 1976, where I attended the course and passed the exam for the initial class operator. Since then, HAM is my biggest hobby. I especially liked the contesting, telegraphy, construction, and antenna design for HF and VHF.
Later on, I've got the extra operator class and got the 9A3LG call which I have until today.
I've always been a team work guy. Under the club call call 9A5Y (9A1CCY) I've participated in various categories in hundreds of HF and VHF contests, often winning TOP places.
For more than 30 years I am president of Radio Club "Jan Hus" Daruvar, 9A1CCY / 9A5Y. Together with all the members from our club, we are trying to keep up with the latest technical achievements in HAMRADIO hobby.
During the qualification process, whole club was supporting Vedran, 9A7DX, to qualify for the WRTC competition in Germany in 2018. Unfortunatly He finished 4'th in EU5, but we are all proud of him anyway. Now we can only hope that he will receive "Wild card" and go to WRTC 2018 at the end.
Personally, I was honored to bean chosen to be part of WRTC team as a second operator in the competition.
<<< Youth Team #3 <<<
>>> Wild Card Team #2 >>>
Back to overview Competing Teams