Tent Sponsors
In Memoriam Val Edwards, W8KIC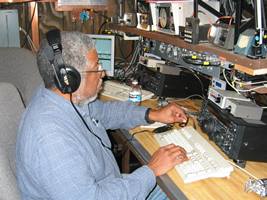 North Coast Contesters, a group formed in 1989 of contesting enthusiasts in Ohio and Pennsylvania, is proud to sponsor a tent in honor of one of our founding members, Dr. Robert V. -Val- Edwards, W8KIC. Val was an avid contester, first in his native Maryland, then while earning a Ph.D. in Chemical Engineering from Johns Hopkins University, followed by many stints at the N4AR multi-op, and, beginning in 1986 until his death in 2008, at many K8AZ multiop efforts.
Val had an unusually distinguished career as Professor of Chemical Engineering at Case Western Reserve University, where he served as department chair for many years. He also held various administrative posts, including Associate Dean and Special Assistant to the CWRU president.
Val's friend, former NCC President K8AZ, said this: "Val had the heart of a lion, the soul of a jazz musician and the brains of a scientist. But beyond that he had a mountain of the right stuff. He was a mentor to hundreds of students and sought out the under-achievers and helped them reach their potential. He extended that teacher-philosophy to every operator, younger and older, at K8AZ. With Val, nothing was impossible - it just needed thought and effort."
NCC honors -and misses - you, Val.
---