Teilnehmer
Team Asia - AS #4
Team Leader:

Alexander Lunev, A65BP

Other callsigns:
RV6LNA, KI0BP, 5B4AIA
Country:
United Arab Emirates
Age (WRTC 2018):
54
Previous WRTC experience:
n/a
Occupation:
Engineer
In radiosport since 1975. Used to be a radio-multiplayer. From 1981 onwards doing only on-air contesting.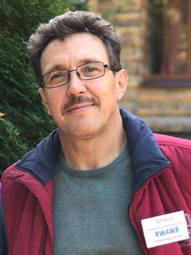 Team Mate:

Aleksandr Orlov, RW4WR

Other callsigns:
K2AWR, UA4WR
Country:
Russia
Age (WRTC 2018):
55
Previous WRTC experience:
Competitor: 2002, 2006
Referee: 2010, 2014
Occupation:
Engineer of telecommunication systems
I started being engaged in Izhevsk radioclub "Volna" - UK4WAC in 1976. I learned a Morse code and my first CW QSO was in september 1976 with UQ2GDQ and my first contests was in 1977. In 1978 I have been invited to team Izhevsk mechanical institute - UK4WAR. I have received the first license in 1980 - UA4WBV and than received new callsign RW4WR in 1986. Most of all I love contests, though in the first 10-15 years I was also fond DX-ing. I prefer to work in contests in MS category, but from time to time I working like single operator. My first best results SOABHP was in 1999 CQWW CW and CQWW SSB- RM4W (It's was records zone 16 and first SO2R with full 48 h operation). The first DX-pedition was in 1993 to Northern Siberia - R0H (Evenkia) for activation this region. We carried out preparation for WRTC-2002 on Malyj Vysotskij isl. - R1MVD and my partner was UA2FZ. I was participant WRTC-2002, 2006 and WRTC-2010, 2014 referee. In 2002 I have been invited to team P3A (Cyprus) and last 15 years operated in all big contests from Cyprus. We used the callsigns 5B4/AJ2O, 5B/RW4WR, P33W in MS category. I'm contester more than 35 years. The most important for me contests - RDXC, CQWW, CQWPX, IARU and certainly WRTC!
<<< Team Asia AS #3 <<<
>>> Team Asia AS #5 >>>
Back to overview Competing Teams