Teilnehmer
Youth Team #2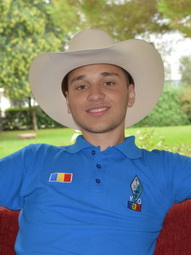 Team Leader:

Alexandru Mancas, YO8TTT

Other callsigns:
n/a
Country:
Romania
Age (WRTC 2018):
24
Previous WRTC experience:
n/a
Occupation:
Electronics engineer
At age of 10 in 2003, my father YO8DOH took me to the Children's Palace where I learned Morse Code. I got the license in 2006 and after I did the first QSO in 2007, I liked contests immediately.
Since 2007, YO8SS has become my coach at HST (High Speed Telegraphy). From 2009 I am a member of the Romanian HST Team and I was European and World Champion of several times at Morse Runner and RufzXP, also won many medals at Receiving Tests and Transmitting Tests. I like also DXing, expeditions and collecting new countries.
From 2012 to 2016 I studied Electronics in my hometown, University "Stefan cel Mare" from Suceava, and now I'm studying Communication and Computer Networks till 2018 at the same university.
Since 2013 I am mainly operating from YR8D. Also worked from: YP8T, YR8V, YR8E, YU5R, YU / YO8TTT, 4O / YO8TTT, LY4A, LY / YO8TTT, YL1S, YL / YO8TTT.
To take part in WRTC was a dream for me. Hope this dream will become true in July 2018 in Germany.
Team Mate:

Daniel Lingvay, YO5LD

Other callsigns:
YO5PLD
Country:
Romania
Age (WRTC 2018):
23
Previous WRTC experience:
n/a
Occupation:
Student
Became a ham in 2009, after many years of being afraid of the exam. My mentor was my dad, YO5AVN. I started in VHF/UHF mostly on MS (Meteor-Scatter) and EME (Earth-Moon-Earth), but changed to HF after 2 years. I've liked CW since I became a ham. I started working CW HF contests with CwGet, but in about 1 year I realized that I no more needed CwGet, as I could 'decode' by ear. Since then I've been working 95% CW. Sadly university and job is 250 km away from shack, but I try to be active in big contests.
<<< Youth Team #1 <<<
>>> Youth Team #3 >>>
Back to overview Competing Teams